By CHRIS LEYDEN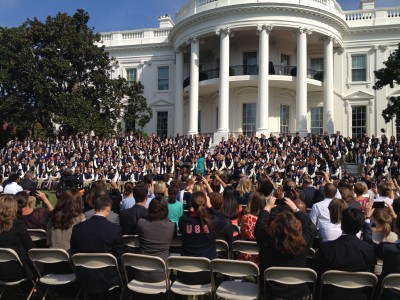 President Obama takes the stage to speak to hundreds of Olympic athletes on the South Lawn of the White House. (Photo by Chris Leyden)
WASHINGTON -- The president, vice president and first lady welcomed this year's summer Olympians and Paralympians to the White House Friday, and gave a special acknowledgment to some of Maryland's most accomplished athletes.
President Barack Obama told the couple-hundred athletes honored that he is the, "fan-in-chief," and, despite his late work hours, has "mastered the DVR," which allowed him to keep up with all the teams.
The president singled out Bethesda's Katie Ledecky for praise, saying that while she was in London she still had to do her schoolwork. Ledecky, who took home the gold medal in the 800-freestyle swim, is only 15 and a student at Stone Ridge School of the Sacred Heart in Bethesda.
"Katie Ledecky may have been swimming in London, but she still had to finish the summer reading assignments for her high school English class," said Obama.
About 10 of Ledecky's classmates at Stone Ridge attended, snapping pictures of the president and gold-medal winner.
Baltimore native Michael Phelps, the world's most honored Olympian, sat directly over the president's shoulder. Phelps holds the Olympic records for most medals won and most gold medals won, with 22 and 18 respectively.
President Obama said he was "inspired" by Phelps and the other Olympic athletes.
"I was inspired to run a little bit faster watching Tyson Gay, and lift a little more after watching Holley Mangold, or do a few more crunches after watching Michael Phelps and the other swimmers," joked Obama. "Somehow, it didn't work quite on me."
Phelps tweeted a thank you to the president, writing, "Thank you to Mr. President @BarackObama for having us all at the #whitehouse today!!!"
Katie O'Donnell, a University of Maryland field hockey alumna and Olympian, also thanked the president on Twitter, and said next time she hopes to meet Bo, the presidential pup.
Michelle Obama started the ceremony by discussing the perseverance of Bradley Snyder, a Navy lieutenant, who was blinded a year ago in Afghanistan by an improvised bomb. Snyder, of Baltimore, took home two gold medals and a silver medal at the Paralympics. Snyder presented the president with an American flag during the ceremony.
President Obama, Vice President Joe Biden and the first lady stayed for more than a half hour after remarks concluded, shaking hands with each athlete and exchanging a few words.